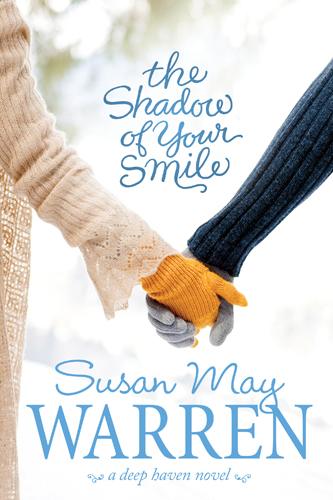 Title: The Shadow of Your Smile
Author: Susan May Warren
Publisher: Tyndale House
Date: 1-1-12
Genre: Modern Fiction
After 25 years of marriage Eli and Noelle Hueston are contemplating divorce. Their only daughter was murdered three years before they can no longer seem to find a way to belong together. Their last son is about to graduate from high school and Eli is finding himself draw to the widow of one of his former deputies. On a cold dark night in northern Minnesota everything changes for them. While witnessing a hold-up Noelle hits her head and wakes up with no memory of the last 25 years of her life. Thinking she is 21 she's shocked to find she has a husband, two sons, and the life she thought she'd always have looked nothing like what she expected.
As Eli helps Noelle begin to heal physically he realizes it's time for himself to start healing emotionally. He's shocked to find secrets out about the wife he thought he knew so well. He's also ashamed to find he's draw to the pretty widow Lee. As Noelle and Eli begin to find a common ground and healing they start falling in love with each other all over again. However, when their problems and secrets come to life it seems as though they'll never truly be able to make their crippled marriage work...or will they?
Set in the familiar town of Deep Haven, MN Susan May Warren has once again written an engaging novel. Neither Eli or Noelle are likeable characters until they begin to give up control, surrender to God, and start trusting in his plans for them. The loss they experienced with their daughter is tragic indeed but joy and life are found in loving and appreciating the memory of all she was. Noelle will make you laugh as she looks in the mirror and finds herself 25 years older than she remembered with wrinkles and sags in all the wrong places. You'll quickly find yourself drawn into this book. With just enough mystery and just the right touch of romance Warren will delight you. And one of the reasons I like Warren so much is her ability to write healing through a fictional story. Her love of the Lord is evident and spills through each of her books. Find a fireplace, put on your mittens, and get ready for a heartwarming read.
Thank you to Tyndale House for providing a free copy of this book in exchange for my honest review.