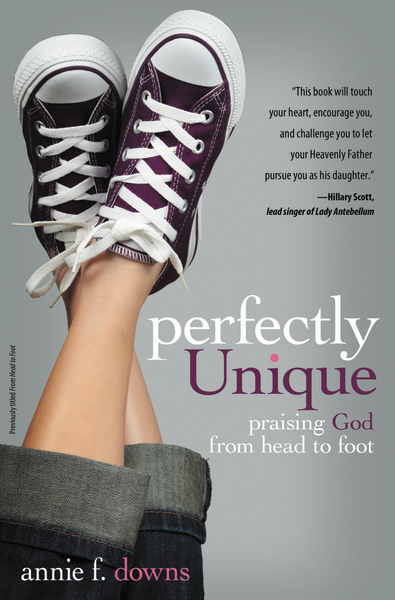 Perfectly Unique
Annie F. Downs
Zondervan
2011
Christian Living, YA, Non-fiction,
Your body is an instrument. No, it's not a flute, or a guitar (I hope). It is a sacred and original design by a master craftsman with a specific plan and purpose. That's a pretty big deal. From head to foot, the way you view your body is directly connected to how you serve God. Seriously. From the thoughts you think to the steps you take, every part of you is linked to the divine. Perhaps you are struggling with your body image or are trying to make sense of why God made you as you are. Maybe you are looking for new ways to understand Scripture or to love God more fully. Either way, this book will take you on a thoughtful, funny, and spirit-filled exploration of the way you were designed and will help you better honor the Creator by learning to value his perfectly unique creation (yourself!).
Okay, let's be honest, the cover of this book alone made me want to read it. How adorable is it!? Not to mention the subtitle is catchy and so appropriate for ladies. I'll admit it, I do judge books by the cover. Now that I have that out of the way let me move on.
A must read! Absolutely wonderful! I loved it! Downs writes with refreshing honesty and hits at the core of what every single young woman (or older) deals with, image. I knew from the intro I was going to like this book. I appreciate an author who can speak truth in love and with humor. Downs does this. From her very first personal story I was immediately hooked. You will feel like you are sitting down with a friend and chatting about life. Downs addresses the insecurity and self-doubt that every girl faces, then gives practical advice about how to shift your way of thinking and acting in order to reflect the the fact that you are a daughter of the King.

Each chapter focuses on a different part of the body, explaining the significance of this part. With stories sprinkled throughout Downs addresses each part of the body asking how does it reflect the beauty God put in you? How can you guard that specific part and use it to glorify God? Some are obvious, such as the eyes, the ears, and the heart. But what about the shoulders? The knees? The hands? You'll have to read the book to find the answer to those.
The "Chew on This" pieces at the end of each chapter are my favorite. They provide scriptures to look up, questions to think through, and thoughts to journal. I definitely will be using this book for my next small group Bible study I do with teen girls.
This is a book that is very much needed in young adult girls lives. The truth span the ages but our young women specifically need to know they are not alone, they have a responsibility to guard themselves, and that they are uniquely and wonderfully made. They are loved. The message is clear and this book is highly highly recommended! Thank you Annie F. Downs!
My thanks to the publisher for providing me with a copy of this book in exchange for my honest review.